| | | |
| --- | --- | --- |
| Soo Eagles select eight at their first NAHL Draft | | |
Tuesday, 08 May 2012 06:44
By: Randy Russon - Junior Hockey News / Mika Media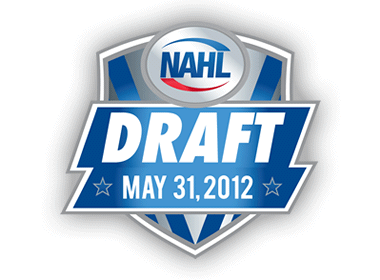 After four productive seasons in the Northern Ontario Jr. Hockey League -- including one championship -- Soo Eagles drafted eight players on Thursday, May 31 as new members of the North American Hockey League.

The Eagles made defenceman Alex Robert from the Detroit Compuware major midget program their first-round pick, 13th overall, at the annual NAHL draft. "He's a highly-touted, very smart, skilled defenceman," said Eagles coach-general manager Bruno Bragagnolo. "We felt that if we had waited until the second round we wouldn't get him."

In the second round, the Eagles opted for Cody Milan, a forward from the Detroit Orchard Park, St. Mary's high school program. Milan, a 1996 birth year, was taken in the first round, ninth overall, by the Sioux City Stampede at the 2012 United States Hockey League futures draft. The skilled forward was also picked by the Soo Greyhounds in the fourth round of the 2012 Ontario Hockey League draft. "We're extremely happy that Cody could be playing with us this coming season," said Bragagnolo."He's a big kid, about 6-foot-3, high-scoring and with unbelievable potential. He's a can't miss prospect.

Forward John Nugent from the Cleveland Barons major midget program was the Eagles third-round pick. "He came to our spring tryout camp in the Soo and really impressed us," said Bragagnolo. "He really wants to be play in the Soo."

In the fourth round, Anthony Saleh, a big forward from the Grosse Pointe North high school program (just outside Detroit) was the Eagles next selection. "He could be a sleeper of the draft," said Bragagnolo. "He has untapped potential, skates well, and has good hands."

Defenceman Zach Bishop from the Detroit Victory Honda midgets was the Eagles fifth-round pick. "He's big strong defenceman who showed very well at our tryout camp," noted Bragagnolo.

In the sixth round, the Eagles opted for defenceman Brian Drapluk from the Chicago Young Americans major midgets. "He's a good skating, smart defenceman who moves the puck really well," said Bragagnolo.

Defenceman Nick Casacci from Kent Prep was taken by the Eagles in the seventh round. "Our eastern scouts recommended him to us," said Bragagnolo. "We will see what he can do at our main camp."

In the eighth round, goalie Brian August from New York Apple Core became Eagles property. "This is another kid who our eastern scouts like," said Bragagnolo. "We're looking at the future for Brian to possibly be one of our goalies."

"I want to acknowledge our head scout Tom Farnquist and his staff," said Bragagnolo. "They put a lot of work into this. It's our first draft in the North American Hockey League and we're very happy with who we got."

Last Updated on Friday, 01 June 2012 19:29